News / Events
Additional CNC Machine Added to the Machine Shop Read More...
Computerized Dot Peen Marking System by Monarch Supply Co., Inc. Read More...
Monarch Supply Co., Inc. Earns ISO 9001:2008 Certification Read More...
Eleven Virginia Companies Accepted into Virginia's Accessing International Markets Program.
Read More...
Monarch Supply Co., Inc. has been a key vendor on the Shipboard Habitability Contract for the US Navy for over 12 years.
Read More...
Machining Capabilities

Monarch Supply Company has in house CNC machines and lathes to manufacture or modify material to customer specifications. Machining services include CNC
milling, CNC turning, drilling, honing, laser engraving, and tapping. We can work with most materials including aluminum, beryllium, brass, bronze, copper alloys, magnesium, molybdenum, nickel, plastics, stainless steel, steel, and titanium.  
Manufacture's Representing & Stocking Distributor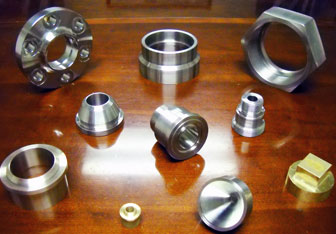 MACHINERY
CNC
Conventional Lathes
Laser
Milling - Horizontal
Milling - Vertical
Punch Press
TIG Welding
TOOLING SERVICES
Hob & Gear Cutting
MATERIALS USED
Aluminum
Beryllium
Brass
Bronze
Copper Alloys
Magnesium
Molybdenum
Nickel
Plastics
Stainless Steel
Steel
Titanium
FINISHING SERVICES
Degreasing
Painting
Plating
Polishing
DESIGN & INSPECTION
AutoCAD 2000
Surfcam CAD/CAM system
Complete Inspection Facilities
Hardness testing on metals and polymers
MACHINING SERVICES
CNC Lathes
CNC Milling
CNC Turning
Drilling
Honing
Laser
Laser Engraving
Tapping
FORMS MACHINED FROM
Bar Stock
Burnouts
Castings
Sheet Metal
Tubing
Weldments
SECONDARY OPERATIONS
Assembly
Fixturing
Forming
Heat Treating
Painting
Plating
Polishing
QUALITY
Clean Room
MIL Specs
SPC
Additional Capabilities
Rotating equipment rebuilding and manufacture
Manufacture and repair hydraulic cylinders
Rebuild of most hydraulic components, including valves, pumps, motors, control systems
Manufacture and repair hydraulic power units for special applications
Troubleshooting and field repair of hydraulic systems
Remanufacturer of repair transmissions and speed reducers
Fabrication and build-up services
MIG, TIG, SMAW welding capabilities
Stress relieving and heat treating capabilities
Prototype design, assembly or testing
Manufacture custom machinery
Shaft repair and manufacture
Conveyor pulley repair and manufacture
Special construction of components bonded to rubber or polyurethane
Crane boom repair and manufacturer
Winch rebuilds
Pick up and delivery by company owned trucks if requested